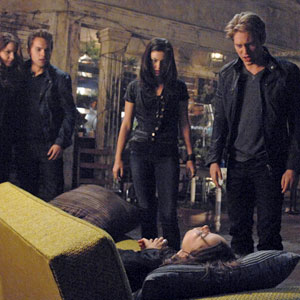 Uh oh, the coven's in deep trouble!
Demons are running amuck on
The Secret Circle
, and to say they're causing problems for the coven is a bit of an understatement. With the demon now sitting tight inside Melissa (
Jessica Parker Kennedy
), her boyfriend Nick (
Louis Hunter
) and the rest of the witches have some drama coming their way in "Slither." It's safe to say we can't wait to see what's about to go down in Chance Harbor.
Because we're so nice, we've actually got
two
exclusive clips from tomorrow night's sure-to-be intense episode
In the clip above, we get to see a new side of Melissa: the demon side, which apparently likes to boss Nick around.
Girl
demon power! While the demon appears to be after Melissa's Book of Shadows, we're thinking it also wants something else.
"The demon has an agenda," executive producer
Andrew Miller
says in a
preview
for the episode. "The demon wants to accomplish something that will put our kids in a ton of danger. She manipulates Nick, Cassie (
Britt Robertson
), and Faye (
Phoebe Tonkin
) and then ultimately Adam (
Thomas Dekker)
and Diana (
Shelley Hennig
) to make her plan happen."
In the second clip, Nick, Cassie and Faye come to the horrifying realization that the demon is controlling Melissa. Let's just say Nick takes matters into his own hands.
"By the end of the episode, they're in this situation where the circle can't continue in the form that it's currently in and to save themselves they have to make a devastating choice," Miller ominously teases. "It's terrifying."